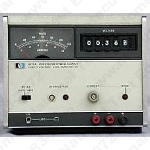 Keysight (Agilent) 6115A -
DC Power Supply, 100 V/0.4 A, 50 V/0.8 A, 40 W
Description
The Agilent 6115A is highly accurate, stable, and easy-to-use voltage source and intended for use as low-cost calibrators, working voltage standards, system reference supplies, and high performance lab supplies.
Features:
Manually operated voltage sources
0.025% output voltage accuracy
Continuously variable current control
Output ratings (0 - 55 deg C): 0-50 V, 0-0.8 A; 50-100 V, 0-0.4 A
Attributes (DC Power Supplies)
Pricing Information
Request a Quote for Purchase:
Looking to buy, rent or lease this unit? Get a quote!
Downloads and Documents