Is your lab accredited? We are.
As a 17025 certified, A2LA accredited calibration lab you can trust that any equipment you purchase, rent, have repaired or calibrated by us will meet even the most exacting standards of quality and performance.
Find out more about our certification.
Calibration Services
VXI Module Support / Fiber Optic Testing / Wireless Communications Support
Extensive Automated Capabilities
17025 Accredited Calibrations Available
Calibrations Performed in Compliance with Applicable ANSI/NCSL Z540-1-1994
New and Reconditioned Test Equipment Sales, Rentals & Leasing
Surplus Equipment Purchase
New & Refurbished Equipment Available
Feature Rich Rental & Leasing Programs
Equipment Buy-Back Program
Massive Savings Off Manufacturer List Price
Industry Leader of RF Microwave Test Equipment Repair
No Evaluation Fee Repair Policy on Most Equipment
Discontinued Equipment Support
Extensive In-House Parts Inventory
Rebuild Programmable & Manual RF Step Attenuators
National Test Equipment - Who we are...
Featured Equipment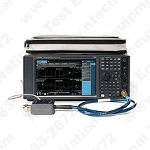 Keysight (Agilent)
N8975B
/526 /B25 /FSA /MTU /N9039C-3FP /N9060C-2FP /NFE /P26 /PC7 /PFR /S
Noise Figure Analyzer, Multi-touch, 10 MHz to 26.5 GHz
$64,995.00
Repair and Calibration Services

Do you need a repair or calibration? Get started creating a service request today!
Service Order Status
What Customers are Saying
"Would have checked off all 10's if it was an option. Your Company, in my opinion, is one of the
Best in the Industry
- Great group of hard-working/sincere-individuals with one common goal -
Always a Great Experience
working with National Test."
-
Sheila M.
(Business to Business Electronics Vendor)