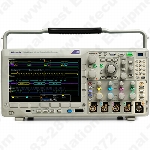 Tektronix MDO3104 -
Mixed Domain Oscilloscope, 4CH 1 GHz, 1 GHz Spectrum Analyzer.

Request a Quote for
more information

Available on Tektronix Encore starting at $12,155.00
Last Updated: 05/25/18
1 Unit In Stock and Available for Purchase Now:
Model
Options
Condition
Qty. in Stock
Price
Add to Shopping Cart
Tektronix MDO3104
Base Model
Refurb
1
$9,995.00
Description
While the MDO3000 Series Mixed Domain Oscilloscope features other built-in instruments, it is first and foremost an oscilloscope. And a versatile one at that. The MDO3104 is packed with timesaving tools to help you discover, capture, search and analyze problems in your design faster than ever. While you may not know what the future holds, you can rest easy knowing your oscilloscope is ready for it. The MDO3104 is fully upgradeable, giving you the ability to add instruments and upgrade bandwidth as your test needs evolve. It's the scope you need today that's ready for tomorrow. They come with a built-in spectrum analyzer, featuring an independent RF acquisition system for the most accurate RF measurements, you can use one instrument as an oscilloscope and spectrum analyzer without compromising on performance.
Dedicated front panel controls enable easy zoom and navigation through 10 Mpoint records
250,000 waveforms per second acquisition rate
Built-in spectrum and protocol analyzer
Built in 4-digit voltmeter with AC+DC RMS, AC RMS, and DC measurements
Built-in logic analyzer with 16 digital channels
Integrated, upgradable arbitrary / function generator
Serial and parallel bus triggering and analysis
FastAcq™ high-speed waveform capture rate finds elusive signal anomalies quickly
Wave Inspector® Controls provide easy navigation and automated search of waveform data
33 automated measurements and waveform histograms for simplified waveform analysis
List of Options
| | |
| --- | --- |
| MDO3AFG | Arbitrary Function Generator |
| MDO3MSO | 16 Digital Channels |
| MDO3SA | Increase Spectrum Analyzer input to 3 GHz |
| MDO3SEC | Password Security capability |
Attributes (Oscilloscopes)
Pricing Information
Lease From:
Based on 60 mo. term with a $1 buyout
Downloads and Documents