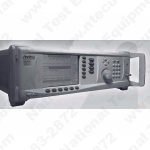 Anritsu MG3696A -
Synthesizer, 2GHz to 65 GHz

1 Unit In Stock and Available for Purchase Now:
Model
Options
Condition
Qty. in Stock
Price
Add to Shopping Cart
Anritsu MG3696A
/03 /1A /2C
Refurb
1
$37,950.00
Description
Anritsu's MG3690B series is fully compatible with older model Anritsu synthesizers. Features necessary for Scalar Network Analyzer (SNA) measurements are still available as options. The MG3690B can be used as a source not only with the Anritsu 56100A series SNA, but is also compatible with Agilent's 8757D, and 8757E series SNAs. For mixer measurements, the MG3690B series synthesizer still offers Master/Slave capability to drive a mixer's RF and LO at offset frequencies with two tracking synthesizers. For TWTA measurements, the MG3690B still offers external power meter leveling mode, which is the method used historically to drive these low source match amplifiers with a flat input power level.
List of Options
| | |
| --- | --- |
| 03 | Ultra Low Phase Noise, main band |
| 04 | 10 MHz to 2.2 GHz RF coverage |
| 05 | 10 MHz to 2 GHz RF coverage |
| 06 | Analog Sweep Capability |
| 07 | IF Up-Conversion |
| 08 | Power Monitor |
| 10 | User-Defined Modulation Waveform Software |
| 12 | Frequency and Phase Modulation |
| 13X | Pulse Modulation |
| 14 | Amplitude Modulation |
| 15X | High Power |
| 16 | High Stability Time Base |
| 18 | mmW Bias Output |
| 1A | Rack Mount with slides |
| 1B | Rack Mount without slides |
| 20 | Scan Modulation |
| 22 | 0.1 Hz to 10 MHz Audio coverage |
| 23 | LF Generator |
| 24 | Pulse Generator |
| 25X | Analog Modulation Suite |
| 2C | Mechanical Step Attenuator |
| 2E | Electronic Step Attenuator |
| 9X | Rear Panel Output |
Attributes (Signal Gen/Synthesizers/Sweepers)
Frequency
10 MHz - 2 GHz

(/05)
10 MHz - 2.2 GHz

(/04)
2 GHz - 65 GHz
Modulation
IF
Phase

(/12)
Pulse

(/13X)
Scan

(/20)
Type
Analog
Microwave
RF

(/04)
Pricing Information
Lease From:
Based on 60 mo. term with a $1 buyout
Downloads and Documents