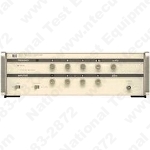 Keysight (Agilent) 3320B -
0.01Hz to 13MHz - Frequency Synthesizer
Description
The 3320B Frequency Synthesizer covers the frequency range from 0.01Hz to 13MHz. Calibrated output available with 0.01 dB resolution over range of +26.99 dBm to -66.99 dBm. Frequency response of ±0.05%; level accuracy of ±0.05 dB. For increased capability, the 3320B can be remotely programmed.
Attributes (Signal Gen/Synthesizers/Sweepers)
Frequency
0.01 Hz - 13 MHz
Pricing Information
Request a Quote for Purchase:
Looking to buy, rent or lease this unit? Get a quote!
Downloads and Documents