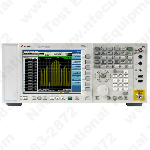 Keysight (Agilent) N9030A -
PXA Signal Analyzer, 3 Hz - (3.6, 8.4, 13.6, 26.5, 43, 44, 50 GHz), 325 GHz External Mixing Opt.

1 Unit In Stock and Available for Purchase Now:
Model
Options
Condition
Qty. in Stock
Price
Add to Shopping Cart
Keysight (Agilent) N9030A
/526 /B1X /B1Y /B25 /B40 /DP2 /EP1 /FS1 /FS2 /FSA /LFE /LNP /MPB /NF2 /NFE /NUL /P26 /PC4 /PFR /RTL /SSD /W7X
Refurb
1
$69,995.00
Description
The PXA signal analyzer is the highest-performance member of the X-Series and is the evolutionary replacement for your current performance signal analyzer. It provides frequency coverage up to 50 GHz and ensures present and future flexibility through optional measurement capabilities and hardware expandability. Through external mixing with Agilent or third-party harmonic mixers, the PXA can measure signals to 325 GHz and beyond. The PXA's advanced performance, flexibility, capability and expandability enable you to address demanding applications in aerospace, defense, commercial communications and more. In addition, the PXA includes extensive remote language compatibility features that make it easier to replace existing Agilent or HP performance spectrum analyzers. Learn why to migrate
As the flagship of the X-Series signal analyzers, the PXA signal analyzer delivers exceptional performance that reduces measurement uncertainty and reveals new levels of signal detail, starting with up to 75 dB spurious-free dynamic range at the 140-MHz analysis bandwidth. Industry-leading specifications include –129 dBc/Hz phase noise (room temperature) at 10 kHz offset (1 GHz), ±0.19 dB absolute amplitude accuracy, and sensitivity of –172 dBm displayed average noise level (DANL) at 2 GHz (with preamplifier and Noise Floor Extension technology). Newly added to the X-Series signal analyzers is Option EDP (enhanced display package), which includes a spectrogram feature for analyzing time-variant signal spectrum.


We can''t predict the future, but Agilent can help you shape it with our future-ready test assets. The X-Series is an evolutionary approach to signal analysis that spans instrumentation, measurements and software. It gives you the flexibility to satisfy your business and technical requirements across multiple products and programs—now and in the future.


Windows and MS Windows are U.S. registered trademarks of Microsoft Corporation.


Functionality
3 Hz to 3.6, 8.4, 13.6, 26.5, 43, 44, or 50 GHz; internal preamplifier options up to 50 GHz
10 MHz (standard), 25, 40, or 140 MHz analysis bandwidth
Extend frequency to 325 GHz and beyond with external mixing
View configuration choices for PXA instrument hardware
Performance
±0.19 dB absolute amplitude accuracy
+22 dBm third order intercept (TOI)
-172 dBm displayed average noise level (DANL) with preamplifier and noise floor extension
-83 dB (-88 dB nominal) W-CDMA ACLR dynamic range (with noise correction on)
Measurement Applications & Software
PXA supports over 25 measurement applications, covering cellular communication, wireless connectivity, digital video, and general purpose. View full list of measurement applications
Advanced analysis of more than 70 signal formats; software runs inside the PXA. 89600B VSA software
MATLAB data analysis software for general purpose data analysis, visualization, and measurement automation. MATLAB software for X-Series
Agilent''s PowerSuite one-button power measurements included as standard
Automation & Communication Interface
LXI class C compliant, SCPI and IVI-COM
USB 2.0, 1000Base-T LAN, GPIB
Programming remote language compatibility with PSA, 8566/68, 856x, and more
Common X-Series user interface/Open Windows® XP operating system
List of Options
| | |
| --- | --- |
| 0BW | Hard Copy Assembly-Level Service Guide |
| 1A7 | ISO 17025 compliant calibration |
| 1CM | Rack mount kit |
| 1CM013A | Rackmount Flange Kit 177.0mm H (4U) - Two Flange Brackets |
| 1CN | Front handle kit |
| 1CP | Rackmount and handle kit |
| 1CR | Rack slide kit |
| 503 | Frequency range, 3 Hz to 3.6 GHz |
| 508 | Frequency range, 3 Hz to 8.4 GHz |
| 513 | Frequency range, 3 Hz to 13.6 GHz |
| 526 | Frequency range, 3 Hz to 26.5 GHz |
| 543 | Frequency range, 3 Hz to 43 GHz |
| 544 | Frequency range, 3 Hz to 44 GHz |
| 550 | Frequency range, 3 Hz to 50 GHz |
| A6J | ANSI Z540 compliant calibration |
| AB2 | Hard Copy of X-Series Chinese Getting Started and Troubleshooting Guide |
| ALV | Auxiliary log video output |
| AMG | Cal + Uncertainties + Guardbanding (Accredited) |
| B1X | Analysis bandwidth, 140 MHz/160 MHz |
| B1Y | Analysis bandwidth extension 160 Mhz |
| B25 | Analysis bandwidth, 25 MHz |
| B40 | Analysis bandwidth, 40 MHz |
| B85 | Analysis bandwidth, 85 MHz |
| BBA | I/Q baseband inputs, analog |
| C35 | APC 3.5 mm connector |
| CR3 | Connector Rear, Wideband IF output |
| CRP | Connector Rear, Programmable IF output |
| DP2 | DP2 - Digital Processor, 2 GB Capture Memory |
| DVR | DVD - ROM/CD-R/RW drive |
| EA3 | Electronic attenuator, 3.6 GHz |
| EDP | Enhanced display package |
| EFM | USB storage device, 4GB, blank |
| EMC | Basic EMC Functionality |
| EP1 | Enhanced Phase Noise Performance |
| ESC | External source control |
| EXM | External mixing |
| FP2 | Fast Power, up to 40 MHz Bandwidth |
| FS1 | Fast Sweep Capability |
| FS2 | Enhanced Fast Sweep Capability |
| FSA | Mechanical attenuator- 2 dB steps, 0 to 70 dB |
| HDD | Removable HDD |
| KB2 | US 65 key USB keyboard |
| KYB | USB Keyboard |
| LFE | Low Frequency Enable 3 Hz |
| LNP | Low noise path |
| MLP | Minimum loss pad, 50 to 75 ohm |
| MPB | Microwave preselector bypass |
| N6141A | EMI measurement application |
| N6141A-2FP | EMI measurement application, fixed perpetual license |
| N6141A-2TP | EMI measurement application, transportable perpetual license |
| N6149A | IDEN/WIDEN/MotoTalk measurement application |
| N6149A-2FP | IDEN, WIDEN, Moto Talk Measurement application, fixed perpetual license |
| N6149A-2TP | IDEN/WIDEN/MotoTalk measurement application, transportable, perpetual license |
| N6152A | Digital Cable TV measurement application. |
| N6152A-2FP | DVB-C (J.83 Annex A/C) measurement application, fixed perpetual license |
| N6152A-2TP | DVB-C (J.83 Annex A/C) measurement application, transportable perpetual license |
| N6152A-3FP | J.83 Annex B measurement application, fixed perpetual license |
| N6152A-3TP | J.83 Annex B measurement application, transportable perpetual license |
| N6153A | DVB-T/H Measurement application |
| N6153A-2FP | DVB-T/H Measurement application, fixed perpetual license |
| N6153A-2TP | DVB-T/H Measurement application, transportable perpetual license |
| N6153A-3FP | DVB-T2 measurement application, fixed perpetual license |
| N6153A-3TP | DVB-T2 measurement application, transportable perpetual license |
| N6155A | ISDB-T Measurement Application |
| N6155A-2FP | ISDB-T Measurement Application,fixed perpetual license |
| N6155A-2TP | ISDB-T measurement application , transportable perpetual license |
| N6155A-3FP | ISDB-Tmm, Measurement Application, fixed perpetual license |
| N6155A-3TP | ISDB-Tmm, measurement application, transportable perpetual license |
| N6156A | DTMB (CTTB) Measurement Application |
| N6156A-2FP | DTMB (CTTB) measurement application, fixed perpetual license |
| N6156A-2TP | DTMB (CTTB) measurement application, transportable perpetual license |
| N6158A | CMMB Measurement Application |
| N6158A-2FP | CMMB Measurement Application,fixed perpetual license |
| N6158A-2TP | CMMB measurement application, transportable perpetual license |
| N6171A | MATLAB Software |
| N6171A-M01 | MATLAB-Basic Package, individual license ? node-locked |
| N6171A-M02 | MATLAB-Standard Package, individual license ? node-locked |
| N6171A-M03 | MATLAB-Advanced Package, individual license ? node-locked |
| N9051A | Pulse measurement software |
| N9051A-2FP | Pulse measurement software, fixed perpetual, license |
| N9051A-2TP | Pulse measurement software, fixed, transportable perpetual license |
| N9051A-3FP | Phase and frequency measurements, fixed perpetual license |
| N9051A-3TP | Phase and Frequency Measurements, transportable perpetual license |
| N9051A-4FP | Extended analysis and statistics, fixed perpetual license |
| N9051A-4TP | Extended Analysis and Statistics, transportable perpetual license |
| N9060A-2FP | Spectrum Analyzer Measurement Application |
| N9060A-3FP | Amplitude Correction and Limit Lines |
| N9060A-4FP | TOI and Harmonics |
| N9060A-5FP | ACP 18 Carrier |
| N9060A-6FP | TV trigger and IQ analyzer enhancement |
| N9060A-7FP | Zero Span, Register, Trace and Spurious Enhancements |
| N9061A | Remote Language Compatibility Application |
| N9061A-1FP | Remote language compatibility, 8566/68, fixed perpetual license |
| N9061A-2FP | Remote language compatibility, 856xE/EC, fixed perpetual license |
| N9062A | SCPI Language Compatibility |
| N9062A-2FP | SCPI language compatibility, RS |
| N9063A | Analog Demodulation Measurement application |
| N9063A-2FP | Analog Demodulation Measurement application, fixed perpetual license |
| N9063A-2TP | Analog demodulation measurement application, transportable perpetual license |
| N9063A-3FP | FM Stereo Measurement Application, fixed perpetual license |
| N9063A-3TP | FM Stereo measurement application, transportable perpetual license |
| N9064A | VXA Vector Signal Analysis Measurement Application |
| N9064A-1FP | Vector signal analysis measurement application, fixed perpetual license |
| N9064A-1TP | Vector signal analysis measurement application, fixed perpetual license |
| N9064A-2FP | Flexible digital modulation analysis measurement application, fixed perpetual license |
| N9064A-2TP | Flexible digital modulation analysis measurement application, fixed transportable license |
| N9068A | Phase Noise Measurement Application |
| N9068A-2FP | Phase Noise Measurement Application |
| N9068A-2TP | Phase Noise measurement application, transportable perpetual license |
| N9068A-AFP | Phase Noise Feature Enhancements, fixed perpetual license |
| N9069A | Noise Figure Measurement application |
| N9069A-1FP | Noise Figure Measurement application, fixed perpetual license |
| N9069A-1TP | Noise Figure measurement t application, transportable perpetual license |
| N9069A-AFP | Noise Figure Feature Enhancements, fixed perpetual license |
| N9071A | GSM/EDGE/Evo Measurement Application |
| N9071A-2FP | GSM/EDGE measurement application, fixed perpetual, license |
| N9071A-2TP | GSM/EDGE measurement application, transportable perpetual, license |
| N9071A-3FP | EDGE Evo measurement application, fixed perpetual license |
| N9071A-3TP | EDGE Evo measurement application, transportable perpetual license |
| N9071A-AFP | GSM / EDGE feature enhancements, fixed perpetual license |
| N9071A-XFP | Single Acquisition Combined GSM/EDGE Measurement Application |
| N9071A-XTP | GSM/EDGE combined measurement application, transportable perpetual, license |
| N9072A | cdma2000 Measurement Application |
| N9072A-2FP | cdma2000 measurement application, fixed perpetual license |
| N9072A-2TP | cdma2000 measurement application, transportable perpetual license |
| N9073A | W-CDMA/HSPA+ Measurement Application |
| N9073A-1FP | W-CDMA Measurement application, fixed perpetual license |
| N9073A-1TP | W-CDMA measurement application, fixed transportable perpetual license |
| N9073A-2FP | HSDPA / HSUPA Measurement application, fixed perpetual license |
| N9073A-2TP | HSPA measurement application, transportable perpetual license |
| N9073A-3FP | HSPA+ Measurement Application, fixed perpetual license |
| N9073A-3TP | HSPA+ measurement application, transportable perpetual license |
| N9073A-BFP | W-CDMA Measurement feature enhancements, fixed perpetual license |
| N9073A-XFP | Single Acquisition Combined W-CDMA Measurement Application |
| N9073A-XTP | W-CDMA single acquisition combined measurement application, transportable perpetual, license |
| N9074A | Fixed WiMAX Single Acquisition Combined Measurement Application |
| N9074A-XFP | Fixed WiMAX single acquisition combined measurement application, fixed perpetual, license |
| N9074A-XTP | WiMAX single acquisition combined measurement application, fixed perpetual license? |
| N9075A | Mobile WiMAX Measurement Application |
| N9075A-2FP | Mobile WiMAX measurement application, fixed perpetual, license |
| N9075A-2TP | Mobile WiMAX measurement application, transportable perpetual, license |
| N9076A | 1xEV-DO Measurement application |
| N9076A-1FP | 1xEV-DO Measurement application,fixed perpetual license |
| N9076A-1TP | 1xEV-DO measurement application, transportable perpetual license |
| N9077A | WLAN 802.11a/b/g/n Measurement Application |
| N9077A-2FP | WLAN 802.11a/b/g Measurement Application, fixed perpetual license |
| N9077A-2TP | WLAN 802.11a/b/g measurement application, transportable perpetual license |
| N9077A-3FP | WLAN 802.11n, Measurement Application, fixed perpetual license |
| N9077A-3TP | WLAN 802.11n, measurement application, transportable perpetual license |
| N9077A-4FP | WLAN 802.11ac Measurement Application, fixed perpetual license |
| N9077A-4TP | WLAN 802.11ac measurement application, transportable perpetual license |
| N9077A-5FP | WLAN 802.11 List Sequence Measurement Application, fixed perpetual license |
| N9077A-5TP | WLAN 802.11 List Sequence measurement application, transportable perpetual license |
| N9079A | TD-SCDMA/HSPA Measurement Application |
| N9079A-1FP | TD-SCDMA Measurement application, fixed perpetual license |
| N9079A-1TP | TD-SCDMA measurement application, transportable perpetual license |
| N9079A-2FP | HSPA measurement application, fixed perpetual license |
| N9079A-2TP | HSPA measurement application, transportable perpetual license |
| N9080A | LTE FDD Measurement Application |
| N9080A-1FP | LTE-FDD Measurement Application, fixed perpetual license |
| N9080A-1TP | LTE-FDD measurement application transportable perpetual license |
| N9081A | Bluetooth Measurement Application |
| N9081A-2FP | Bluetooth Measurement Application, fixed perpetual license |
| N9081A-2TP | Bluetooth measurement application, transportable perpetual license |
| N9082A | LTE TDD Measurement Application |
| N9082A-1FP | LTE TDD Measurement Application, fixed perpetual license |
| N9082A-1TP | LTE TDD measurement application transportable perpetual license |
| N9083A | Multi-Standard Radio (MSR) Measurement Application |
| N9083A-1FP | Multi-Standard Radio, MSR, Measurement Application, fixed perpetual license |
| N9083A-1TP | Multi-Standard Radio, MSR, measurement application, transportable perpetual license |
| NF2 | Noise Floor Extension |
| NFE | Noise Floor Extension |
| NUL | IM Nulling |
| P03 | Preamplifier, 3.6 GHz |
| P08 | Preamplifier, 8.4 GHz |
| P13 | Preamplifier, 13.6 GHz |
| P26 | Preamplifier, 26.5 GHz |
| P43 | Preamplifier, 43 GHz |
| P44 | Preamplifier, 44 GHz |
| P50 | Preamplifier, 50 GHz |
| PC4 | Intel ® Core ™ i7 CPU L 620 @ 2.00 GHz |
| PFR | Precision frequency reference |
| RBE | Resolution Bandwidth Extended |
| RT1 | Real-time spectrum analyzer up to 85 MHz analysis bandwidth |
| RT2 | Real-time spectrum analyzer up to 160 MHz analysis bandwidth |
| RTL | Real Time Link |
| RTR | Real-time Spectrum Recorder and Analyzer Application Example |
| SF1 | Security Features, Exclude Launching Programs |
| SF2 | Security Features, Prohibit Saving Results |
| SSD | Additional removable solid state drive |
| TDS | Time Domain Scan |
| UK6 | Commercial calibration test data |
| W7X | Operating system, Windows Embedded Standard 7 |
| WXP | Operating system, Windows XP for Embedded Systems |
| YAV | Y-axis video output |
Attributes (Spectrum Analyzers)
Form Factor
Portable

(/N6141A-2TP)
Portable

(/N6149A-2TP)
Portable

(/N6152A-2TP)
Portable

(/N6152A-3TP)
Portable

(/N6153A-2TP)
Portable

(/N6153A-3TP)
Rackmount

(/1CP)
Application Software
Cable TV

(/N6152A)
MATLAB
Phase Noise
W-CDMA
Average Noise Level
+22 dBm
Frequency
40 MHz

(/B40)
140 MHz

(/B1X)
3.6 GHz

(/503)
3.6 GHz

(/EA3)
3.6 GHz

(/P03)
8.4 GHz

(/508)
8.4 GHz

(/P08)
13.6 GHz

(/513)
13.6 GHz

(/P13)
26.5 GHz

(/526)
26.5 GHz

(/P26)
43 GHz

(/543)
43 GHz

(/P43)
44 GHz

(/544)
44 GHz

(/P44)
50 GHz
50 GHz

(/550)
50 GHz

(/P50)
Pricing Information
Lease From:
Based on 60 mo. term with a $1 buyout
Downloads and Documents